Autumn Lawn Care Best Practices
Minnesota lawns endured unusually hot and dry conditions this summer. Despite this, there's a good chance they will bounce back next spring after a rejuvenating winter.
Of course, they will perform even better if proactive measures are performed to help them make the most of that dormancy period. Experts agree that now is the perfect time to put three specific autumn lawn care practices into place.
All of them have proved their merit year after year to deliver favorable results.
Let's take a look at the rejuvenation practices you should consider implementing to make your yard a showplace for friends and family to enjoy next year, and maybe even sooner.
Autumn Is The Perfect Time to Nurture Lawns
Autumn's cooler temperatures reduce the stress on your lawn. You'll notice it grows more easily.
This also makes it more acceptable to supplement measures that give it a boost. Many of our Minnesota lawns are typically bermudagrass or fescue that respond to regular fertilization, watering, and mowing.
In early autumn your lawn still needs regular fertilization to support all of its biological needs.
Coming out of summer it will still need sufficient nitrogen to support the additional growth that it will be experiencing.
You want to encourage this growth because it supports a stronger root system that is necessary for storing resources to sustain it throughout our typically long winters.
Fertilizing your lawn during autumn has two main advantages: it rejuvenates the lawn from the wear and tear it endured over the summer months, and it stores the resources that it needs for the months ahead to maintain its vigor.
Be sure to monitor the frequency of watering your turfgrass in the fall, especially if you have an automatic irrigation system. You want your lawn and landscaping plants to benefit from the natural nitrogen that is abundant in natural rainfall, especially autumn thunderstorms.
It's also helpful to alternate mowing patterns in autumn. This encourages the turfgrass to develop sturdier shoots. As you get closer to winter, and especially for that final mowing, mow your lawn twice in opposite directions to encourage the turfgrass to stand tall.
This practice also tidies up the lawn by sweeping up any fallen autumn leaves.
Expert Autumn Lawn Care and Maintenance Practices
Autumn is also an excellent time for mechanical practices that should be performed at specific times of the year. These are not recommended during peak growth periods because your lawn will already be somewhat stressed from its aggressive growth.
Irrigation system enhancements, reseeding or resodding, and core aeration practices can be performed in springtime or fall.
Though most experts agree fall is the better season here in Minnesota because the weather is typically more accommodating because tough winters like we had last year could make springtime a little more challenging.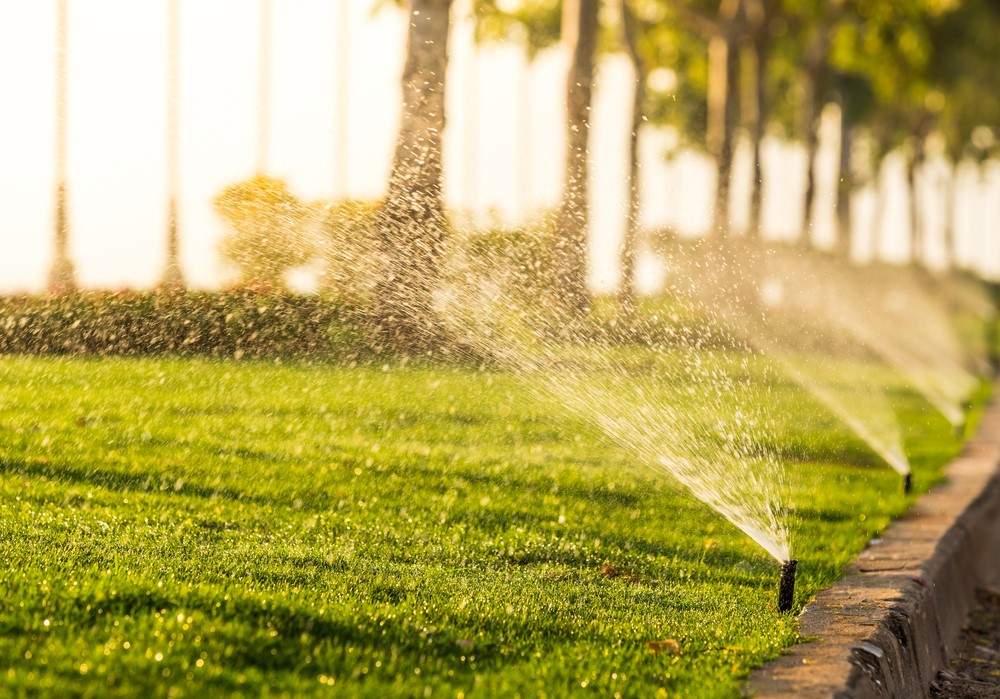 #1. Fine Tune Your Automatic Irrigation System
One significant upgrade you can do during this time is redesigning your irrigation system.
An automatic irrigation or sprinkler system takes care of the lawn's watering. It is advisable that you monitor your irrigation system for missed or overwatered areas, and the inevitable maintenance of broken or clogged irrigation heads or nozzles.
As your landscaping plants grow, the time comes when you need to reconfigure your system to ensure complete turf coverage without overwatering your ornamental plantings.
Redesigning a sprinkler system should typically be done by an irrigation professional, someone who knows how to balance the water pressure among the zones and for making repairs that may arise.
In most cases, you will want to enlarge planting beds to give mature plants room to grow. This will require relocating irrigation heads in those beds to the newly established turf edges.
Depending on the size and shape of your lawn, you may be adding or reducing the number of lawn irrigation heads to ensure complete coverage.
Besides the irrigation system, this is a good time to look at the effectiveness of your drainage systems. You'll want to make any drainage improvements needed while the soil is workable and lawn repairs simple.
It's always messy work, but this is a great time to get it handled so that our property is tidy throughout the winter.
#2. Revitalize Your Lawn's Foundation with Core Aeration
Most homeowners are familiar with core aeration. It's a practice best performed in early autumn here in Minnesota.
In fact, most golf courses perform core aeration during the second week of September without exception. This gives the root system the opportunity to benefit from the mechanical process of breaking up the root systems and returning that organic matter back to the soil.
Every plant needs moisture, oxygen, and micronutrients such as nitrogen, magnesium, and other trace elements to complete the photosynthesis process.
If the root systems are dense, which is common with residential lawns, it's necessary to break up the roots to allow them to rejuvenate.
Contrary to what one may imagine, breaking up tender roots near the surface encourages new shoots. These younger, more young shoots have a greater capacity for supporting the plant.
A core aeration machine punches 3″ or so holes in the soil and drops the root pellets on the surface. This practice breaks up compacted soil and the pellets work their way back into the holes where they decompose and further nourish the turfgrass.
#3. Refresh Your Lawn With New Seed or Sod
Overseeding is perfect if you want to fill up thinner or bare areas on your property. It's also a way to introduce new seed varieties that will make your lawn more resistant to diseases and drought.
The gentle temperature conditions and ample moisture in autumn allow the seeds to germinate faster and more reliably.
One of the insider lawn care secrets is overseeding immediately after core aeration.
New grass seeds that are distributed across the lawn manually or with a mechanical spreader will fall into the loosened soil where they will be covered with aeration cores working their way back into the lawn.
A more aggressive option is completely reseeding your lawn. This will require chemically or mechanically removing the current stand of turf.
Then the lawn is graded with rakes and the addition of fresh topsoil to provide a fresh bed for the seeding. To prevent the seeds from washing away on sharply sloped surfaces until they germinate, it may be necessary to apply a seed blanket.
Of course, the fastest way to a new lawn is resodding. Many lawns are depleted of organic matter.
This is largely due to a few activities, with chemical fertilizer and weed control applications being one of the leading sources. Foot traffic from everyday activities is also a contributor.
The key advantage to resodding is that you are gaining fresh, organic soil and young, vibrant turfgrasses that are guaranteed to instantly give you a beautiful lawn.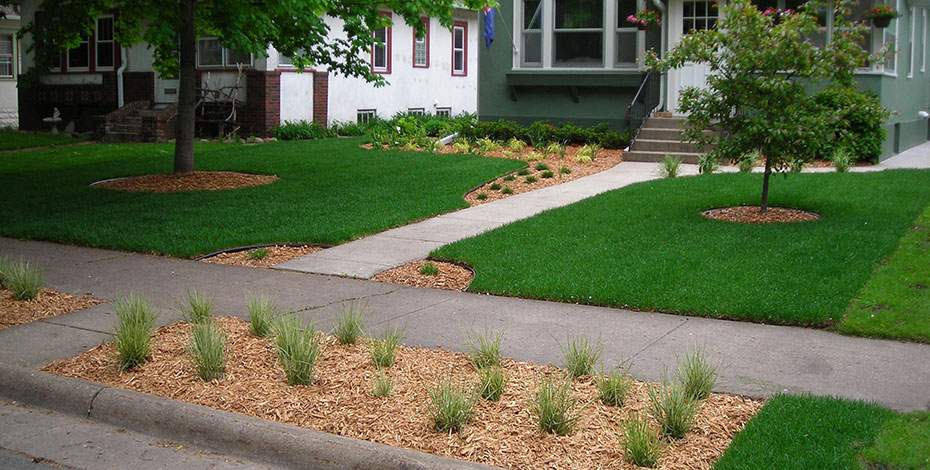 Green Grounds Landscaping: Helping Minnesota Homeowners Enjoy Outdoor Living
Our top priority is creating living spaces that are right for you. We pride ourselves on working with you from concept to construction to create the right landscape for your needs.
Contact us today for a free consultation to explore your next landscaping project.