How to pressure wash your patio, driveway and decking
If you're a house-proud person who enjoys their property looking neat, tidy and welcoming, then the dirt that collects over time across your patio, driveway and decking it can be more difficult to clean in comparison to cleaning the inside of your house, which can be deep cleaned on a regular basis.
Oil, petrol or water stains from your vehicles can ruin the overall look of your driveway.
If your wooden decking is covered with algae and filth that's gradually accumulated over the years. Or, it could be that moss, lichen and weeds are making your patio less appealing.
Power Washing can clean these common problem on the outside of your house.
It can also be achieved with an excellent finish without having to sacrifice a full weekend to the task or resort to scrubbing on your hands and knees.
Power Washers bought in a hardware store can be great for small exterior jobs.
However, they are no where near as powerful as a professional power washer that we would use at Green Grounds Landscaping.
Below are some tips to help you get started with pressure wash.
How To Pressure Wash Your Patio, Driveway And Decking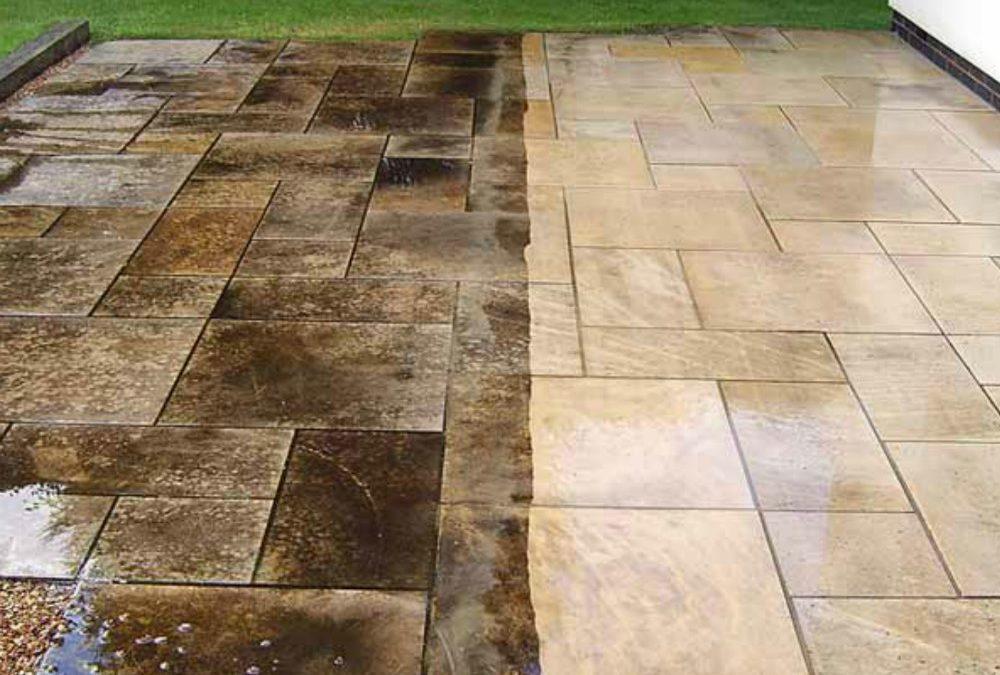 How to pressure wash a patio
Not used a pressure/power washer before? Follow these easy steps for a fuss-free approach to cleaning your patio.
Remove any furniture or potted plants from your patio
Use a broom to remove the largest pieces of dirt and debris
Once you're used to the speed and volume of water, and confident you've got the water jet under control, work your way systematically across the surface of your patio, starting at the furthest distance from your home and working your way back
A few extra patio cleaning tips that may go a long way to helping you keep your outdoor area as good as new include regularly brushing your patio and removing weeds as soon as they have taken root.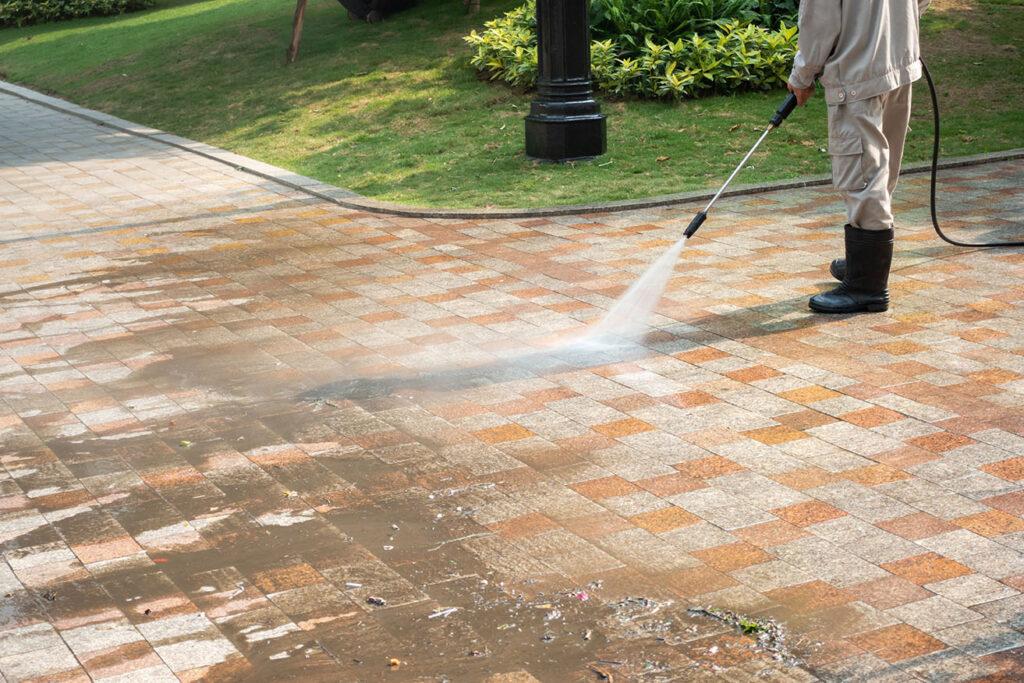 How to pressure wash a driveway
Using a pressure washer to clean your driveway is the fastest, easiest route to pristine results.
Begin by soaking the entire area
Add a little detergent or washing up liquid directly to the surface – this will help cut through oily stains which may be caused by your car
Then, starting with the lowest setting and working your way up to the highest, work your way systematically across the surface of your driveway
To ease the pressure washing process, consider driveway cleaning tips such as removing stains caused by fluid leaks immediately and regularly sweep your driveway to remove excess dirt.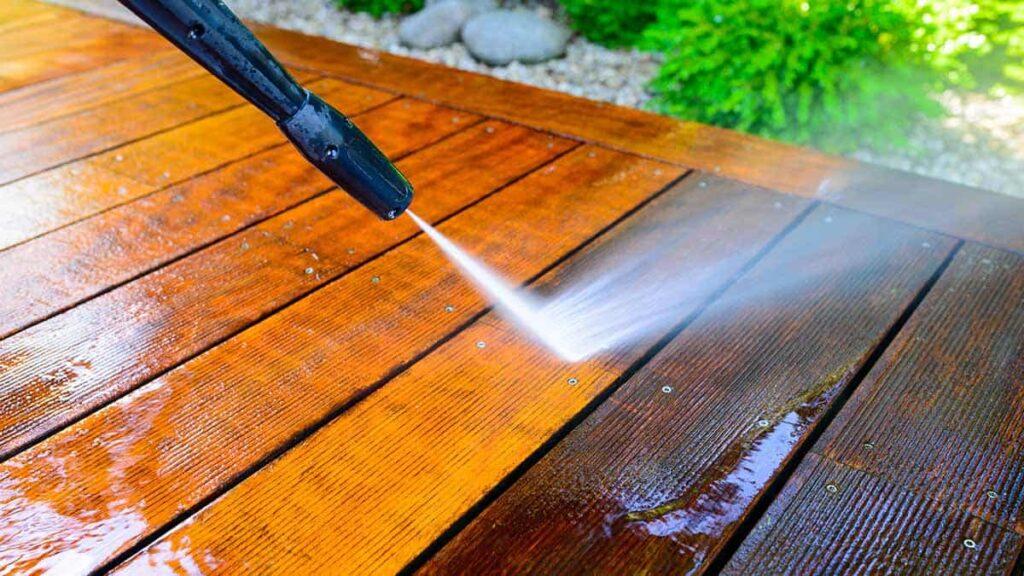 How to pressure wash decking
Wooden decking is very popular in gardens right now but after a few heavy winters and plenty of use, real wood can begin to look tired and worn.
Pressure washing is a useful option to help lift out deeply ingrained dirt and give your decking a new lease of life.
However, because you're dealing with a soft, natural substance, it's a good idea to go gently.
Start off with the machine's lowest setting and be sure not to place the water-jet tip too close to the wood
Most quality pressure washers will have a range of "fan" settings, which determine how narrow the water-jet can be, and therefore how intense its power can become. Choose the widest fan (and therefore most gentle setting) when you're cleaning wood
Other decking cleaning tips to remember are to follow the grain of the wood and have sandpaper on hand to rub out imperfections and errors once the main bulk of the job is completed.
If all this seems like a lot of effort to take care of your wooden decking, you could opt instead for the luxury of woodstone decking, which provides the warm finish of real wood and the durability of stone.
Get professional help if the stains don't go away
So, you have tried the steps above and you're still not happy with the results. Don't worry, we've got you covered, at Green Grounds Landscaping we are here to meet your needs.
We have built a loyal customer base by treating them and their homes respectfully, and we've worked hard to make sure we get the job done better than anyone else can.
If you are looking for professional power wash washing , call us today on 612-408-4796
Did you know?
We also offer Snow Removal, Gutters Clean Up, Concrete Work, Retaining Wall and more. Call us today to book your appointment!