There's a good reason Kentucky Bluegrass is the most popular type of grass in Minnesota for commercial properties. This durable cool-season grass is easy to establish and extremely resistant to damage. It creates an attractive, dense look without much need for constant upkeep.
These properties give Kentucky Bluegrass a distinct advantage over other types of turfgrass such as Fine-Leaved Fescue, Tall Fescue, and Perennial Ryegrass.
At Green Grounds Landscaping, LLC., we offer instant quality sod installation and commercial mowing and maintenance services.
Let us help you make your commercial property in Minnetonka, Eden prairie, Edina, Delano, St. Louis Park, Minneapolis, St. Paul State of Minnesota look its best year-round!
Our Top Choice: Kentucky Bluegrass
We recommend it for commercial properties in Minnetonka, Eden prairie, Edina, Delano, St. Louis Park, Minneapolis, St. Paul State of Minnesota.
It has some unbeatable advantages, such as:
Excellent adaptability to cool weather
An attractive dense, uniform appearance
High durability
Self-spreading
It's easy enough to establish a Kentucky Bluegrass lawn from seed, but if you want an established lawn fast, instant sod installation is a great option.
Kentucky Bluegrass's self-spreading tendencies are one of its biggest advantages. Heavy foot traffic on a lawn can lead to damage, such as thin or bare areas.
Kentucky Bluegrass just springs right back thanks to its rhizomes, underground stems that spread rapidly and re-fill the worn patches—you don't have to do anything but keep the root system healthy.
Your Kentucky Bluegrass Lawn: Installation and Care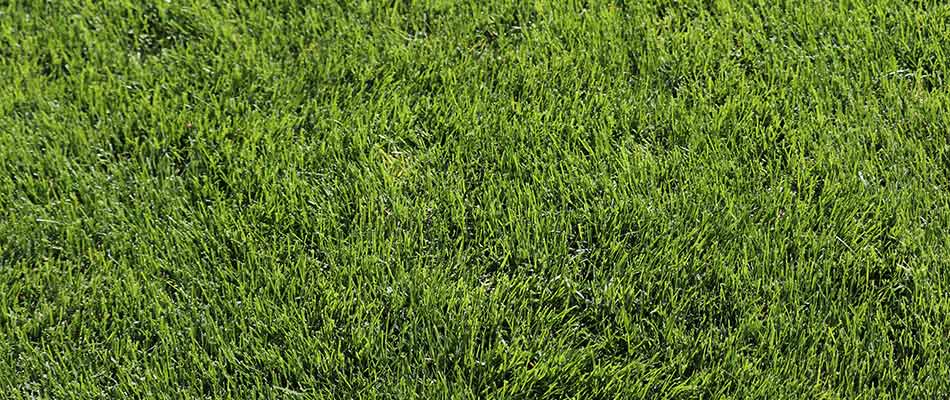 It's okay to install Kentucky Bluegrass sod at any time of the year, assuming the ground isn't frozen. In Minnesota, that's typically from mid-April through October. However, it's preferable to avoid installing sod too late in the fall since the new grass needs enough time to establish roots before the ground freezes.
Newly installed sod requires intensive watering until it establishes a root system. Depending on the weather, we recommend watering new grass every day for the first 2-6 weeks. Kentucky Bluegrass has a shallow root system that requires deep, regular irrigation to encourage root growth. Typically, 1 inch per week gives the best results on an established Kentucky Bluegrass lawn. In warmer, drier weather, the lawn may need 2 inches per week or more.
While traditional Kentucky Bluegrass varieties have limited drought- and shade-resistance, cultivators have developed improved varieties over the years that contribute to lawn resilience. The optimal height for a Kentucky Bluegrass lawn is around 2 ½ inches. In hot, dry weather, the recommended mowing height rises to 3-4 inches.
Periodic soil testing and enhancement with fertilizers and mineral supplements will help preserve the deep brilliant color of Kentucky Bluegrass.
Why an Attractive Lawn is Important for Commercial Properties
A well-kept, good-looking lawn can play a significant role in drawing customers to your commercial property. It looks professional, encourages customers to visit your commercial property, and makes them more likely to hang around.
Lawn care is especially important in outdoor leisure areas such as parks. A lush, neatly trimmed lawn also conveys the image of a thriving, prosperous business. It may even give you an advantage over competitors.
Contact us for sod installation and lawn maintenance services for your commercial property today.
Boost the appeal of your commercial property with a lush, green lawn. For an estimate on sod installation and lawn maintenance services, call us at 612-408-4796.
We are proud to provide top-rated lawn service in Minnetonka, Eden prairie, Edina, Delano, St. Louis Park, Minneapolis, St. Paul State of Minnesota