Landscaping Inspiration: How to Bring Life to Your Landscape This Spring
Is your landscape blooming this spring? If you're starting to see colors but your landscape still seems lackluster, it may be time for an update. Here's how to bring life to your landscape this year.
As the weather is getting warmer, the greys outside are turning into greens. Spring is full of new life with blooming flowers, plants, bushes, and trees.
But finding your next landscape inspiration can often lead you down a rabbit hole of indecision.
Luckily, we've made it easier for you. This article will give you the ideas and inspiration you need to get your yard bursting with life.
We'll cover flower beds, water features, gorgeous gardens, and more.
Read below for the landscaping inspiration you need this spring.
Landscaping Inspiration For This Spring
Aesthetics of the Home
To add life to your landscape, you first must know the style of your home. If you have a quaint, traditional home, gardens or ornamental trees are complementary.
Gardens add variety to every landscape. They can be filled with flowers, shrubs, and edibles. Install plants with colors that work well with your house.
Ornamental trees add color to enhance your home. If you have a modern house, consider shrubs or succulents for a geometric or minimal feel.
Taking into consideration the aesthetics of a property is crucial in landscape planning. When done right, landscaping enhances the good aspects of your home and minimizes the bad.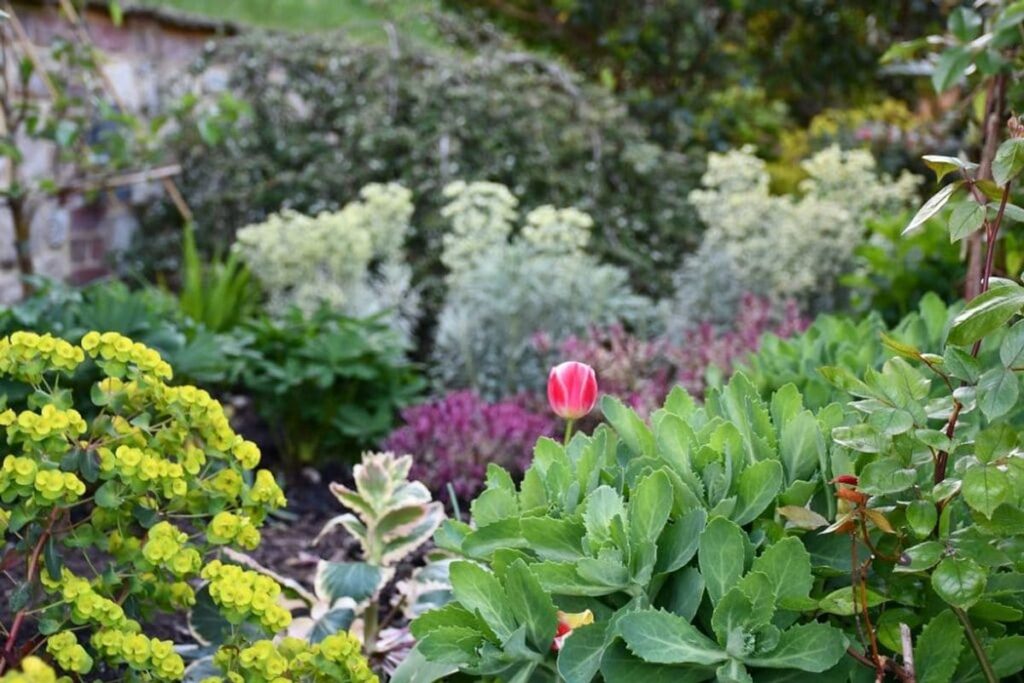 Lively Gardens
Spring is the perfect time to spruce up the garden. Start by cutting back dead or dying plants. Install new greenery where your annuals may have perished.
Having a good mix of shrubs and flowers can add color to your garden throughout the seasons.
Plants that do well in gardens during warmer months include roses, succulents, herbs, and edible plants.
To add life to your spring garden, choose an array of plant varieties. Don't be afraid to mix in bold colors, your garden needs all the colors it can get after winter.
When planting lively gardens in your landscape remember the importance of the sun. Each plant or flower needs a certain amount of sunlight every day to thrive.
Some plants thrive in full sun, which is 6+ hours of direct sunlight. Others only need partial sunlight, or about three hours a day.
Make sure you know how much sunlight your new garden area will get on an average day. The plants or flowers you choose need to be able to thrive in that amount of light.
Garden Paths
Upgrade your garden with a path. A garden path will give your garden depth and definition.
It also ensures the life of your lawn. By having a designated walkway, people will naturally stick to the path instead of your grass.
This makes garden paths ideal for households who entertain a lot.
Use pavers, loose stone, or mulch to create your garden path. There are many different organic materials that can be used.
For example, if you want a modern garden design use concrete.
Planting Pots & Flower Beds
Planting pots are an easy and effective way to stand out this season and bring life to your yard.
If you are new to gardening or don't have a lot of space, containers are a great way to start. They can welcome guests at your front door or add color to an outdoor seating area.
Plant greenery, flowers, and herbs to maximize your impact. Native MN plants are the easiest to care for and will keep your property looking its best.
Greenery will bring the space to life. Flowers will add color and intrigue. Herbs will bring flavorful smells and delicious recipes to your table.
Most people use standard planting pots, but others choose to get creative. You can use antique wooden bins, rustic barrels, or even kettle pots.
Choosing what will hold your plants is a fun and creative part to enjoy. Using non-traditional planting pots is a great way to add a little art to your landscape.
A bonus of containing your flowers in planting pots is less daily maintenance. Container plants have more protection against weeds and disease.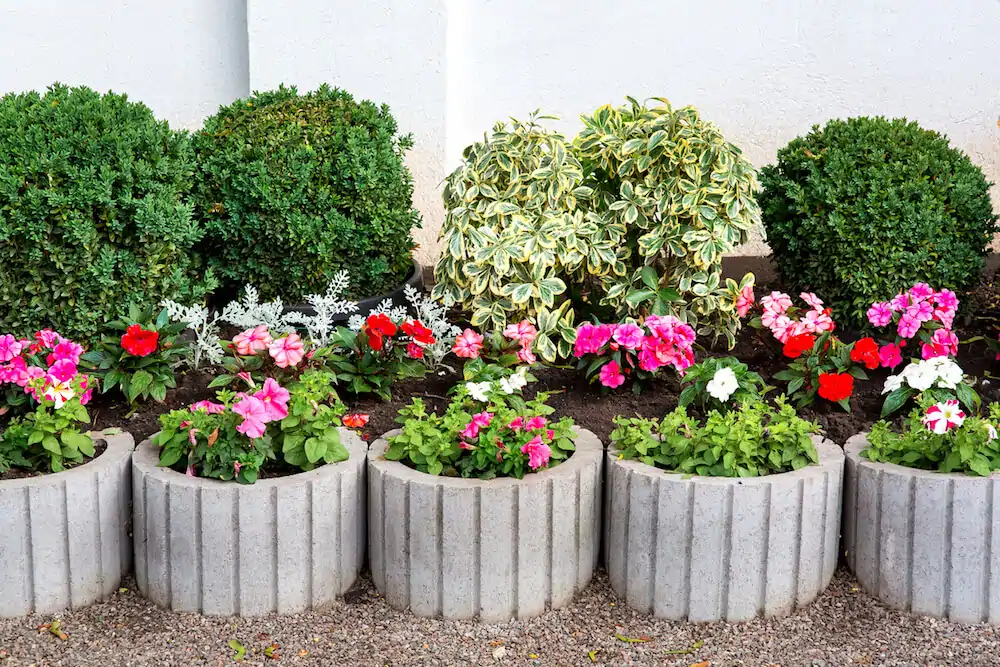 Patio and Outdoor Seating
If you want to extend your living space outdoors, a patio and outdoor seating area can help.
Patios are a great place to relax and look upon the beauty of your landscape. It also makes your backyard more welcoming to entertaining guests.
If your paver patio needs restoration and maintenance, this may be the year to check it off your list. Entertaining outdoors helps promote social distancing and keeps you and your guests safer.
Consider what you might want on your patio, including an outdoor bar, BBQ area, pizza oven, and more.
If you don't have much yard area, don't worry about it! Small space landscape design can help you achieve the outdoor oasis you've been dreaming about.
Water Fountains and Features
Nothing is more relaxing than listening to the sound of water babbling down nearby rocks.
Water features offer tranquility and can even increase your property value. Ponds, springs, and pools with built-in waterfalls make a landscape look lively.
You can start with a simple birdbath in your garden. Or if you want a bigger project, you can add a pond or waterfall feature.
Keep in mind, if you want a bigger feature, it's best to go with a professional. Having the guidance of a Minnesota landscaper ensures your water feature will be safe.
Otherwise, problems like erosion or flooding could occur around your property.
Add Lively Trees
Trees are the most prominent landscape feature that you can add to your property. They make a statement because of their size and colors.
As trees mature, they increase the value of your property. In fact, real estate agents confirm that mature trees add 7% to property value.
There is a wide range of decorative trees that can liven up your yard. From fruit trees to ornamental trees, or even evergreens.
Ornamental and fruit trees will offer your property an array of colorful flowers. They will attract pollinators and provide delicious fruits to eat.
Evergreen trees will keep your landscape green all year long. They keep your yard looking alive and create contrast during winter.
Related article: Best Tips for Choosing Trees to Plant In My Backyard
If you're adding larger trees, think about their future growth before planting. As trees grow, they affect light, temperature, and space on your property.
landscape-truck-picking-up-flowers-for-delivery
The Perks of a Professional
We all love a good do-it-yourself project. But sometimes it's better to call in help. There are many things to think about before adding to your landscape.
Even if you're only adding a simple path or shrubbery, a professional can provide insight. A pro will guide you on which trees and shrubs will grow best in your space.
It can take a lot of work to get a landscape to look beautiful and natural. At Green Grounds Landscaping, we work hard to achieve this for our clients.
Green Grounds Landscaping offers professional, reliable residential and commercial landscape services.
Contact us today to find more about how to bring life to your landscape this year.